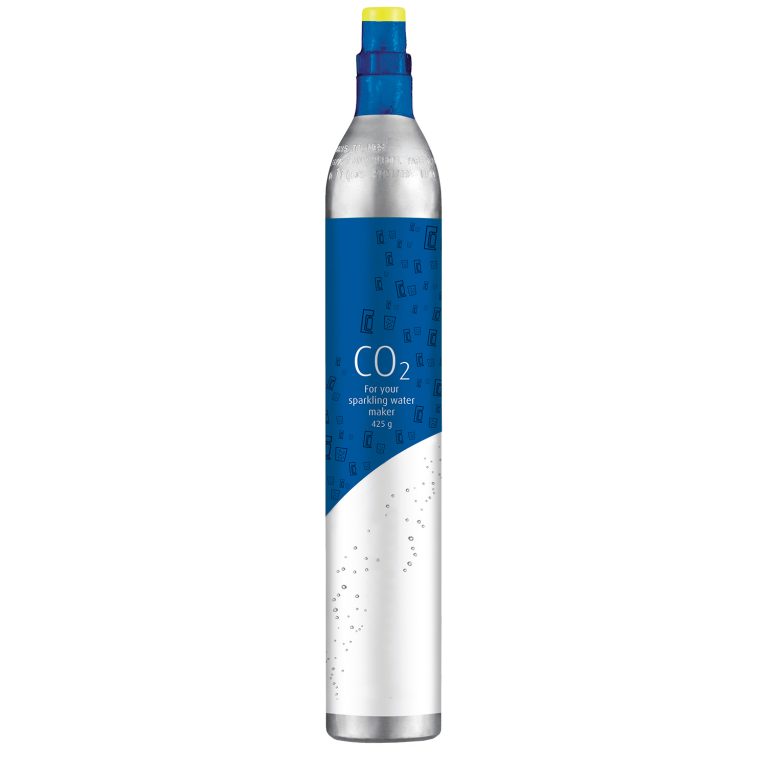 CO2 cylinder refilled by Linde
CO2 cylinders with a blue sleeve are refilled and leak-tested but not manufactured by Linde. You can make 60 litres of carbonated water with one 425 g cylinder.
CO2 cylinder is filled with 425 g of carbon dioxide (CO2, E290).
The product specifications fulfill the requirements of purity for food additives according to the EU & JECFA.
The expiry date of the gas is marked in the head sleeve at top of the cylinder.

C

ylinders are refilled by Linde and undergo thorough weight and leakage tests during the filling process.
Please note that CO2 cylinders with a blue sleeve may not be compatible with all sparkling water makers, as the cylinder valve is not manufactured according to Linde's requirements.
(move safety instructions to a separate module on the CO2 page?)
When handling CO2 cylinders, please remember these safety instructions:
Handle the cylinder with care.
Protect the cylinder against heating.
Store and transport the cylinder with the plastic plug attached.
Move the cylinder to a safe place in the event of a fire.
Children should not handle CO2 cylinders without supervision.
| | |
| --- | --- |
| CARBON DIOXIDE, CO2 E290 | The specifications fulfill the requirements of purity for food additives according to the EU & JECFA |
| ADR | 2,2 A |
| UN | 1013 Carbon Dioxide |
| EG | 204-696-9 |
| Height | 370 mm |
| Width | 60 mm |
| Depth | 60 mm |
| Weight | 1 250 g |
| Country of origin (gas) | Finland |