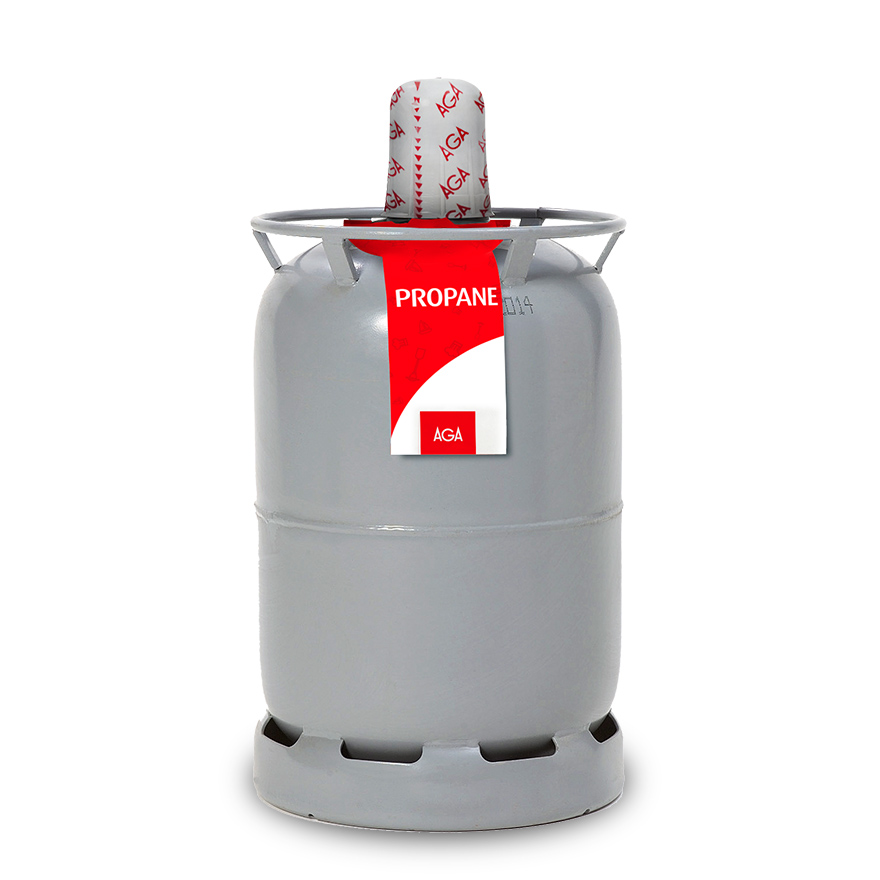 AGA steel cylinder
Steel is the oldest and most traditional propane cylinder type. It's a good choice especially during wintertime thanks to its good evaporation capability, and therefore popular for winter barbequing, caravans and motor homes, terrace heaters or gas stoves.
Thanks to a wide size range, there's a steel cylinder available for every need. Steel cylinders are durable and have a long lifetime.
Steel cylinder benefits
Easy availability
Wide range of cylinder types and sizes
Good evaporation capability
Durable cylinder
AGA propane in steel cylinders is available on all our markets: Sweden, Norway, Finland, Estonia, Latvia and Lithuania.
Steel cylinders are available both with a click-on valve (not in Sweden) and a screw valve, and can be found in many different sizes depending on the country. There are also small so-called campaign cylinders, available in sizes 0,34 kg (Sweden) and 2 kg (Sweden and Norway).
If you are looking for information on big industrial cylinders, please check our Linde Gas websites.
Steel cylinders are suitable for
Grills
Heaters
Gas stoves
Caravans and motor homes
Steel cylinders are inspected every 10 years.
| | | | | | |
| --- | --- | --- | --- | --- | --- |
| STEEL CYLINDERS IN SWEDEN | 2 kg | 5 kg | 11 kg | 11 kg | 33 kg |
| Valve type | Paino | Paino | Paino | Kierre | Kierre |
| Gas content | 2 kg | 5 kg | 11 kg | 11 kg | 33 kg |
| Height | 315 mm | 356 mm | 575 mm | 547/575 mm | 1300 mm |
| Diameter | 200 mm | 300 mm | 300 mm | 300 mm | 320 mm |
| Empty cylinder weight | 4 kg | 9 kg | 14 kg | 14 kg | 28–45 kg |
| Full cylinder weight with gas content | 6 kg | 14 kg | 25 kg | 25 kg | 61–78 kg |
| Product name | Teräs PV-2 | Teräs PV-5 | Teräs PV-11 | Teräs KV-11 | Teräs KV-33 |
| | | | | | |
| --- | --- | --- | --- | --- | --- |
| STEEL CYLINDERS IN ESTONIA | 5 kg | 11 kg | 11 kg | 17 kg | 33 kg |
| Valve type | Click-on | Click-on | Screw | Screw | Screw |
| Gas content | 5 kg/12 l | 11 kg/27 l | 11 kg/27 l | 17 kg/41 l | 33 kg/79 l |
| Height | 356 mm | 630 mm | 630 mm | 790 mm | 1300 mm |
| Diameter | 300 mm | 300 mm | 300 mm | 300 mm | 320 mm |
| Empty cylinder weight | 9 kg | 14 kg | 14 kg | 16,3 kg | 26 kg |
| Purchase type | purchase | purchase | purchase, rent | purchase, rent | rent |
| | | | | | |
| --- | --- | --- | --- | --- | --- |
| STEEL CYLINDERS IN FINLAND | 2 kg | 5 kg | 11 kg | 11 kg | 33 kg |
| Valve type | Click-on | Click-on | Click-on | Screw | Screw |
| Gas content | 2 kg | 5 kg | 11 kg | 11 kg | 33 kg |
| Height | 315 mm | 356 mm | 575 mm | 547/575 mm | 1300 mm |
| Diameter | 200 mm | 300 mm | 300 mm | 300 mm | 320 mm |
| Empty cylinder weight | 4 kg | 9 kg | 14 kg | 14 kg | 28-45 kg |
| Full cylinder weight with gas content | 6 kg | 14 kg | 55 kg | 55 kg | 61-78 kg |
| Product name | Teräs PV-2 | Teräs PV-5 | Teräs PV-11 | Teräs KV-11 | Teräs KV-33 |
| | | | | | |
| --- | --- | --- | --- | --- | --- |
| STEEL CYLINDERS IN NORWAY | 2 kg | 5 kg | 11 kg | 17 kg | 33 kg |
| Valve type | Click-on | Click-on | Click-on and Industrial | Industrial | Industrial |
| Gas content | 2 kg | 5 kg | 11 kg | 17 kg | 33 kg |
| Height | 315 mm | 356 mm | 575 mm | 820 mm | 1300 mm |
| Diameter | 200 mm | 300 mm | 300 mm | 300 mm | 320 mm |
| Empty cylinder weight | 4 kg | 9 kg | 14 kg | 22 kg | 28-45 kg |
| Full cylinder weight with gas content | 6 kg | 14 kg |  25 kg | 39 kg | 61-78 kg |
| Product name | Stål 2 kg | Stål 5 kg | Stål 11 kg | Stål 17 kg | Stål 33 kg |
| | | | | |
| --- | --- | --- | --- | --- |
| STEEL CYLINDERS IN LATVIA | 11 kg | 17 kg | 11 kg – rent | 33 kg – rent |
| Valve type | Screw | Screw | Screw | Screw |
| Gas content | 11 kg / 27 l | 17 kg / 41 l | 11 kg / 27 l | 33 kg / 79 l |
| Height | 575 mm | 800 mm | 575 mm | 1300 mm |
| Diameter | 300 mm | 300 mm | 300 mm | 320 mm |
| Empty cylinder weight | 14 kg | 16,3 kg | 14 kg | 26 kg |
| Full cylinder weight with gas content | 25 kg | 33,3 kg | 25 kg | 59 kg |
| Product name | AGA propāns 60+ | AGA propāns 60+ | AGASOL propāns | AGASOL propāns |
| | | | | | |
| --- | --- | --- | --- | --- | --- |
| STEEL CYLINDERS IN LITHUANIA | | | | | |
| | | | | | |
| Valve type | | | | | |
| Gas content | | | | | |
| Height | | | | | |
| Diameter | | | | | |
| Empty cylinder weight | | | | | |
| Full cylinder weight with gas content | | | | | |
| Product name | | | | | |