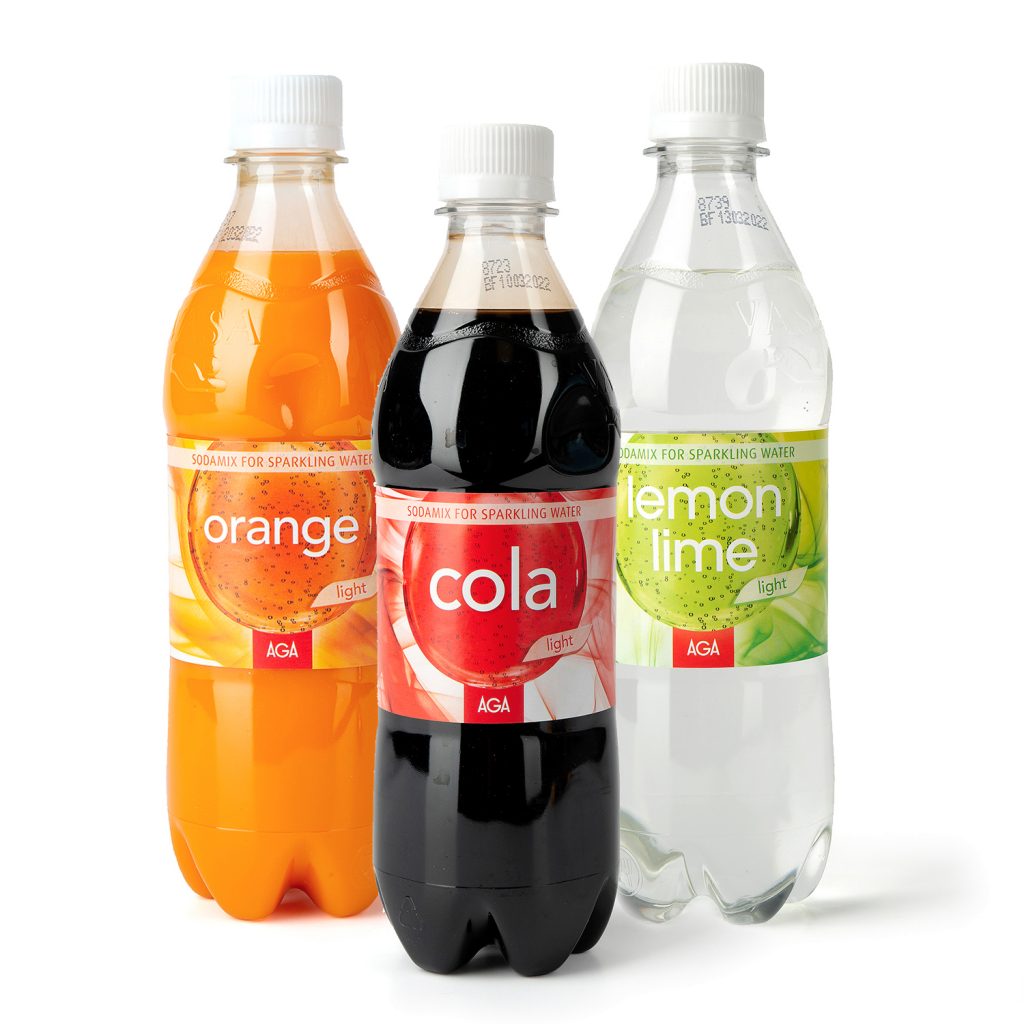 AGA Sodamix Light
AGA Sodamix Light concentrates are the perfect choice for you who want to enjoy the cold soda drink without any extra calories.
Available flavors are the most popular soda tastes: Cola, Lemon-Lime and Orange.
Benefits of AGA Sodamix Light:
only 4-7 calories in 100 ml of ready drink
easy and cost-efficient way to make sodas at home
you get 9 litres of soda with one bottle of AGA Sodamix Light
the most popular soda flavors available
produced in Sweden
The AGA Sodamix Light products are delivered in 500 cl plastic bottles, enough for approx. 9 litres of ready-to-drink beverage.
Store the opened bottle in refrigerator and use it within one month.
AGA Sodamix Light concentrates are available on Swedish and Danish markets.
Note: add flavor only after you have carbonated the water, since the drink concentrates may damage the machine!
Concentrate
Mixing ratio 1 +18
Storage/shelf life
Once opened, packaging can be kept in the refrigerator for up to one month.
Best before date stamp on the bottle.
Ingredients

Cola Light: Water, colours E150d, acidity regulators E338, aroma (incl. caffeine), sweetener (ascesulfam K, aspartam). Contains a source of phenylalanine.
Lemon-lime Light: Water, aroma, citric acid, sodium benzoate, sweetener (ascesulfam K, aspartam). Contains a source of phenylalanine.
Orange Light: Water, orange juice (1%), citric acid, stabilizer (E1450, E445), natural orange aroma, sodium benzoate, potassium sorbate, ascorbic acid, colours (carotene, beta-carotene, E160e), sweetener (ascesulfam K, aspartam). Contains a source of phenylalanine.

Country of origin
Sweden
Technical data (bottle)
Volume
500 ml – makes up to 9 litres
Height
220 mm
Diameter
64 mm
Material
Plastic
Weight
560 g