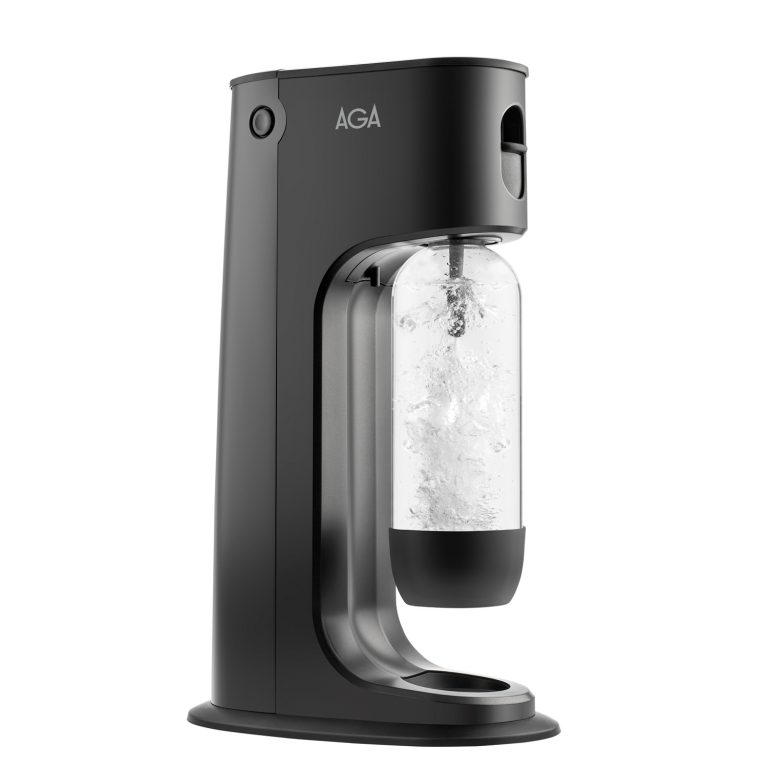 AGA Balance
The AGA Balance is a stylish sparkling water maker manufactured with design, functionality and quality in mind. It was launched in 2011 and has been a success ever since, being considered as "best value for money" sparkling water maker on the market. Currently it's available in its 4th generation model.
The design of the Balance is similar to the Exclusive model, and both models use the same technology. Balance is lighter and made of matte-finished plastic with stylish but practical Softell details. AGA Balance has two color options: black and white.
AGA Balance benefits
Made of matte-finished plastic
Neat Softell details
Two color options
Easy carbonating with the push of a button
Water bottle is easy to insert and remove
Classic and stylish design
AGA Balance is used standing on a counter or a table. The machine is sized to fit comfortably between your kitchen worktop and cabinets.
AGA machines are manufactured according to stringent quality and safety standards to withstand heavy everyday use. All their parts are environmentally friendly and recyclable.
There are different product package versions available and some do not include CO2 cylinder and/or PET bottles. Check carefully the package content at your reseller to make sure you have all the items needed for making tasty sparkling beverages!
All AGA (and older AQVIA) water bottles are compatible with AGA Balance machine.
| | |
| --- | --- |
| Height | 437 mm |
| Width | 255 mm |
| Depth | 135 mm |
| Weight (without water bottle or CO2 cylinder) | 1 200 g |
| Country of origin | China |
How to change the CO2 cylinder in AGA Balance?
Place the carbonator on a flat surface and remove the back cover of the machine: hold in the catches on the sides, angle the cover backwards and then pull it up.
How to change the CO2 cylinder in AGA Balance?
2. Remove the seal and the protective cap from the cylinder.
How to change the CO2 cylinder in AGA Balance?
3. Tilt the sparkling water maker forwards and insert the gas cylinder through the opening in the bottom of the machine so that the cylinder is standing on the work surface. Gently tilt the sparkling water maker back so that the upper part of the machine rests against the threaded neck of the cylinder.
How to change the CO2 cylinder in AGA Balance?
4. Screw the cylinder into the machine as far as it will go, at which point the sparkling water maker is back in its original resting position. Make sure that the cylinder is firmly in place. Replace the back cover.