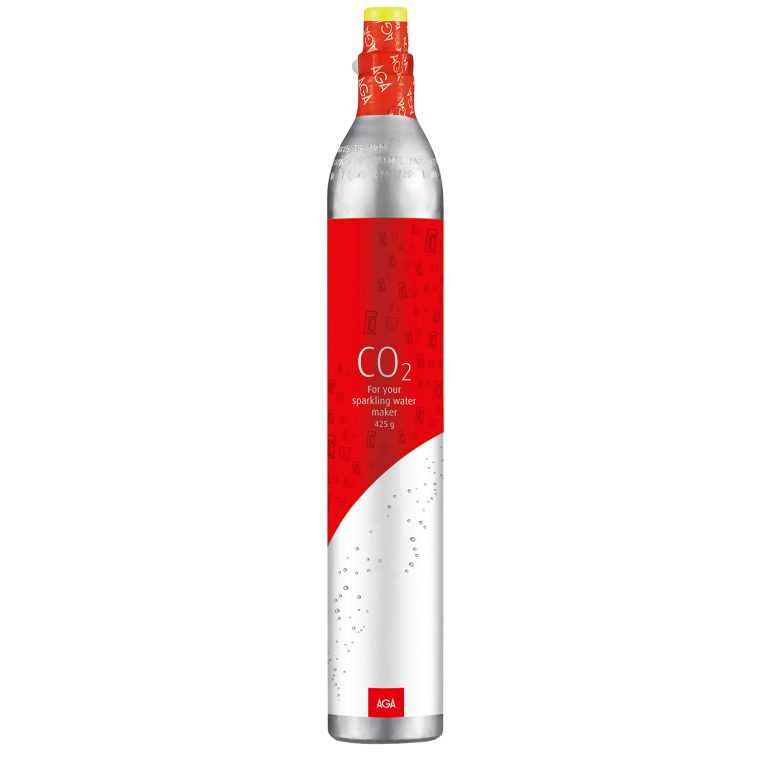 AGA CO2 cylinder
The AGA CO2 cylinder fits all sparkling water makers on the market. You can recognise this cylinder by the red AGA branded sleeve.
One 425 g cylinder will make approximately 60 litres of carbonated water, depending on how sparkling you like it.
The valve and the cylinder are manufactured according to Linde's high safety and quality requirements and include multiple safety details. All AGA cylinders are filled by Linde and undergo thorough weight and leakage tests during the filling process.
AGA CO2 cylinder is filled with 425 g of carbon dioxide (CO2, E290).
The cylinder fits all sparkling water makers on the market, as well as built-in carbonators and refridgerators like Grohe Blue, AGA carbonator, Electrolux refridgerator
The product specifications fulfill the requirements of purity for food additives according to the EU & JECFA.
The expiry date of the gas is marked in the head sleeve at top of the cylinder.
Linde takes 100% responsibility of the quality and function of the valve and cylinder.
When handling CO2 cylinders, please remember these safety instructions:
Handle the cylinder with care.
Protect the cylinder against heating.
Store and transport the cylinder with the plastic plug attached.
Move the cylinder to a safe place in the event of a fire.
Children should not handle CO2 cylinders without supervision.
| | |
| --- | --- |
| CARBON DIOXIDE, CO2 E290 | The specifications fulfil the requirements of purity for food additives according to the EU & JECFA |
| ADR | 2,2 A |
| UN | 1013 Carbon Dioxide |
| EG | 204-696-9 |
| Height | 370 mm |
| Width | 60 mm |
| Depth | 60 mm |
| Weight | 1 250 g |
| Country of origin (gas) | Finland |